I tried to predict the Emmys last year and I did alright. I'm attempting to improve my model and see how I do this time. Starting off, let me go over my process again. For Drama and Comedy series, the breakdown goes like this:
Network Prestige: The prestige of a network always influences voters, both positively and negatively. Premium channels like HBO and Showtime get the top numbers here, other cable channels are case specific, network channels are mixed, and niche channels are usually bad. Internet started as purely negative, but it's gotten slightly better. Here is my listing of all channels with shows in the running:
A&E – Niche channel with the barest hint of class, although I have fond memories of old Newsradio reruns. Score: 3.0
ABC – Network channel with a long history of varying quality. But everyone knows about it. Score: 7.5
Amazon – Internet only network, which is a bit tricky, as their offerings have been quite mixed in terms of quality. Unlike Netflix, their name is very strongly associated with something other than original entertainment. It's had a good year though. Score: 6.5
AMC – Cable channel that has begun known for quite a few critically and commercially successful shows. That pulls it up from most cable channels. Score: 6.5
BBC/BBC America – Cable channel that the votes don't really know about. But when they think about it, its UK origin adds a touch of class. Score: 6.0
Bravo – Niche channel with a whole lot of trashy reality shows, if you like that sort of thing. Plus one or two decent ones. Score: 4.0
CBS – Network channel that's old and not associated with high quality these days. Score: 7.0
Comedy Central – Niche channel that still suffers from people thinking it's just SNL reruns and terrible, terrible comedies. It's not that at all anymore, but there is still the reputation. Score: 6.0
Crackle – Internet channel that's essentially an unknown. The Internet part is a negative, but there's no preconceived assumptions. Score: 5.0
Discovery – Niche channel that is unclear on what it even is, really. Score: 4.0
Disney Channel – Cable channel known for children's programming and therefore not considered prestigious. Score: 3.0
Food Network – Niche channel that's mostly terrible or redundant. Score: 2.0
Fox – Network channel that's only thirty years old and has a controversial reputation. Very good shows and very bad ones. Score: 7.0
FX – Cable channel that is mostly unknown among voters, but it's gotten a few highly visible critically acclaimed shows the last year. Score: 6.5
HBO – Premium channel that is beloved by voters. Score: 9.0
HISTORY – Cable channel with a few alright shows but a terrible reputation. Score: 3.5
HGTV – Niche channel that nobody knows about. Score: 1.5
IFC – Cable channel that has some quality programming but is not that well known. Score: 6.0
LMN (Lifetime) – Niche channel that has a terrible reputation. It's had the barest twinge of a few decent shows. Score: 2.0
Logo TV – Cable channel focused primarily at LGBT people, but is basically an unknown among Emmy voters. Score: 3.0
LouisCK.net – Internet channel with precisely one show – Louis CK's Horace and Pete. Louis CK is admired but the Internet part is not, so it's a mixed bag. Score: 5.0
NBC – Network channel with a long history of hits but hasn't been as great lately. Score: 7.0
Netflix – Internet only network that's finally getting into a pattern of quality. Score: 7.5
PBS – Network channel that has serious classiness associated with it. Score: 8.0
Showtime – Premium channel that is respected if not beloved like HBO. Score: 8.0
USA – Cable channel with a lot of procedural, frothy shows and one or two really out there ones. Score: 6.0
Show Prestige – This is really just about how prestigious the show is perceived to be by the voters, regardless of the network. I won't list this all out here, but as we go through things.
Voter Bias – This refers to the bias voters have towards certain properties, either negatively or positively. The voters love the idea of being interesting and innovative, regardless of the facts. Sometimes they just like certain shows.
Familiarity – This is how familiar the voters are with a show, which always tilts towards a win.
Track Record – This is when a show has been getting awards a lot, so the voters think they still deserve them or a show hasn't gotten any, so the voters think it's due. Seems backwards, but there we are.
OUTSTANDING DRAMA SERIES
The Americans should've been nominated since day one, as it's one of the best shows on TV. But it's been ignored until now. The lack of Mad Men and Breaking Bad have left room for this great show.
Better Call Saul is from the creator of Breaking Bad, Vince Gilligan, lending it cachet, and is on AMC, a fairly prestigious network. It had a pretty good second season and still has twinges of that Breaking Bad pedigree.
Downton Abbey is beloved by the Emmys for some reason (I jest, I know why, I just don't care for it) and it's on PBS. It's won more than a few times too.
Game of Thrones is on the beloved HBO network and is a massive commercial success. The latest season was far more critically admired than the year before, and it's as big as it ever was.
Homeland has fallen on lesser times in critical and commercial success, but there's still a lot of prestige associated with it, deserved or not. The last season was pretty decent but fairly forgettable.
House of Cards is a buzzy show for the voters, with the movie star cast and production team (Kevin Spacey, David Fincher, Robin Wright, etc). That said, the latest season was kind of a mess.
Mr. Robot had a buzzy, weird, brilliant first season and it deserves the spot here. Glad they made space for something this odd.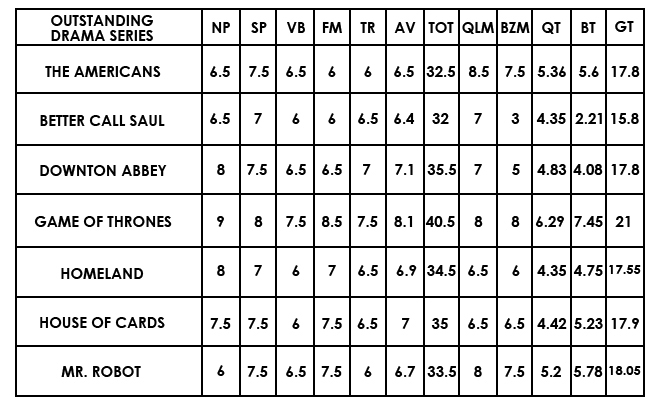 This year I think Game of Thrones has the odds overall.
What should win: The Americans was the superior show.
What shouldn't win: House of Cards. Not a great season.
What might squeak by: Mr. Robot has loads of buzz.
What shouldn't even have been nominated: Homeland, which was just okay.
Who wuz robbed: I think The Leftovers had a great season and Halt and Catch Fire was highly enjoyable. The Marvel shows Jessica Jones and Daredevil were worthy of some recognition too.
OUTSTANDING COMEDY SERIES
black-ish is a solid comedy with relevant social commentary that's a lot better than much of the schlock out there.
Master of None comes from Netflix and Aziz Ansari, and is another classic "dramatic comedy" with commentary and laughs. A great show.
Modern Family broke its track record last year. Is it the end or do the voters still love this show?
Silicon Valley had another funny, clever season, but the nerdy aspect makes it a harder sell.
Transparent has a bit less buzz than its first year, but it still has some. I don't think it can win.
Unbreakable Kimmy Schmidt had a pretty good second season, funny and emotional. But it's not likely to get love.
Veep is show that's been consistently entertaining and funny for a few seasons, and it finally broke through the Modern Family juggernaut last year. And unlike that show, Veep is still great.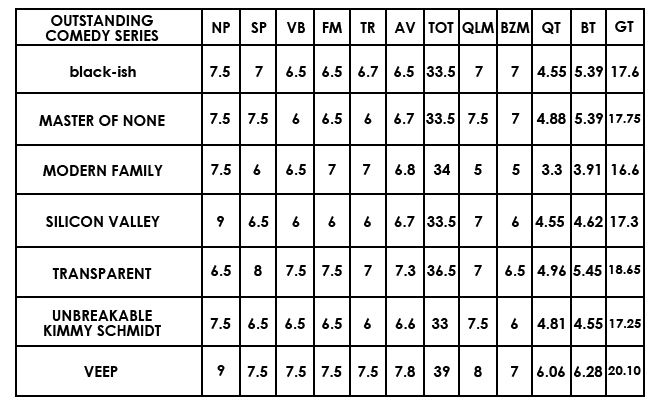 I think Veep takes it again!
What should win: Veep. In this crowd, it's the best.
What shouldn't win: Transparent. Is this even a comedy?
What might squeak by: Master of None has some buzz.
What shouldn't even have been nominated: Modern Family, as per usual.
Who wuz robbed: Wow, where do I start? First of all You're the Worst was the best non-absurdist comedy of last year. Fresh Off the Boat was better than Modern Family. Jane the Virgin was fine, but Crazy Ex-Girlfriend was a breath of fresh air. I think Girls had one of its best seasons. If they count here, Comedy Central's bizarre Review and Nathan for You deserve recognition too. That said, only Modern Family stands out as not belonging.
The predictions of the animated, variety and limited series nominees is next.