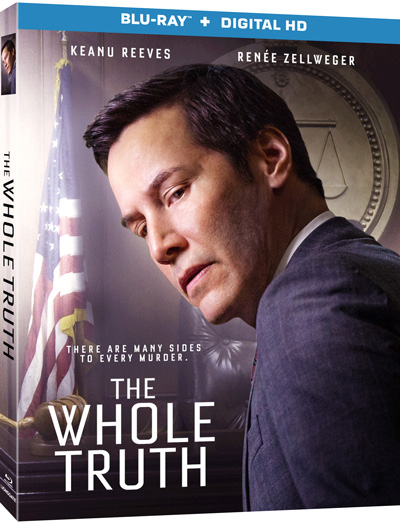 Witness the tense legal thriller The Whole Truth from Lionsgate. Keanu Reeves stars as a defense attorney trying to clear a teen in the brutal stabbing of his father. Rounding out the acclaimed cast are Renée Zellweger, Gugu Mbatha-Raw, Gabriel Basso, and Jim Belushi.
Defense attorney Richard Ramsey (Reeves) takes on a personal case when he swears to his widowed friend, Loretta Lassiter (Zellweger), that he will keep her son Mike (Basso) out of prison. Charged with murdering his father, Mike initially confesses to the crime. But as the trial proceeds, chilling evidence about the kind of man that Boone Lassiter (Belushi) really was comes to light. While Ramsay uses the evidence to get his client acquitted, his new colleague Janelle (Mbatha-Raw) tries to dig deeper – and begins to realize that the whole truth is something she alone can uncover.
Now you can enter to win one of five copies of The Whole Truth on Blu-ray.
To be eligible for the contest please read and follow the instructions below.
This contest is closed.
Visit our entry form (link removed) page.
Enter your name and complete mailing address in the spaces provided. Your full name is required. Entries with initials or single names will not be accepted.
Enter your email address in the space provided. Please double check that it is correct before submitting. HOTCHKA is not responsible for misspelled information and will not correct errors.
You must have a US residential mailing address. Prize cannot be shipped overseas or to P.O. Boxes.
ONE entry per person, email address and/or household. Duplicates and suspected duplicates will be discarded. HOTCHKA reserves the right to disqualify any entries suspected of being duplicates.
Entry period ends Thursday, January 26 at 5:00 PM Eastern Time.
Winners will be contacted by email. Set your email spam filters to accept mail from @hotchka.com
HOTCHKA will never share your information with third parties.
GOOD LUCK!