This past season brought many unforeseen, exciting and pulse-pounding twists and turns. With the end of every season comes the bittersweet knowledge that we must wait with bated breath until the next ride. "As ever, there's no shaking Dead's grip" raves Us Weekly. To keep your The Walking Dead appetite satiated, Anchor Bay Entertainment proudly continues the tradition of offering fans an opportunity to relive the ever so satisfying series by delivering The Walking Dead: The Complete Sixth Season on Blu-ray + Digital HD and DVD on August 23. New cast members and guest stars for Season Six include Merritt Wever as Dr. Denise Cloyd, Ethan Embry as Carter, Corey Hawkins as Heath, Thomas Payne as Jesus and Jeffrey Dean Morgan as Negan.
Season Six starts with Alexandria's safety shattered by multiple threats. To make it, the people of Alexandria will need to catch up with our survivors' hardness while many of Rick's people will need to take a step back from the violence and pragmatism they've needed to embrace. These reversals won't happen easily, or without conflict. But now Rick's group is fighting for something more than survival … they're fighting for their home, and they will defend that at any cost, against any threat, even if that threat comes from within.
Including never-before-heard audio commentaries, deleted scenes, six new featurettes, additional extras and the highly anticipated Alternate Negan Scene, the Blu-ray and DVD will be available August 23. Just like the previous award-winning home entertainment releases, The Walking Dead: The Complete Sixth Season will take fans down The Walking Dead memory lane so they can relive all of the season's most haunting and indelible moments. Bonus features on the Blu-ray include …
Episode 616: Last Day On Earth — The Extended Version
Audio Commentaries
Deleted Scenes
The Making of The Walking Dead
In Memoriam
601: Out of The Quarry
Guts & Glory: The Death of Nicholas
Strength in Bonds
Negan: Someone to Fear
The Face of Death: Iconic Walkers of The Season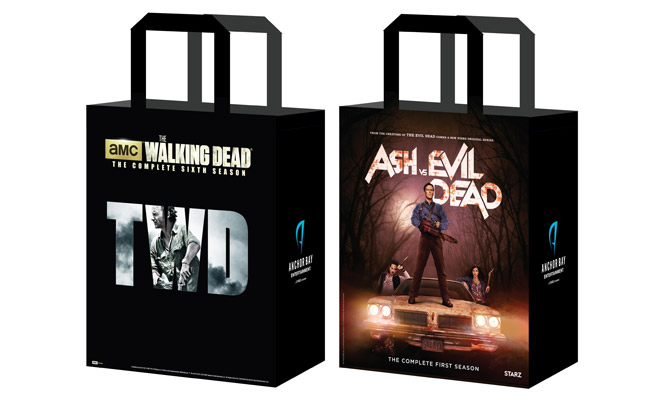 In addition to the Blu-ray, the lucky winner will also receive an exclusive Comic Con dual sided Anchor Bay shopping bags featuring TWD & Ash Vs. Evil Dead.?
To be eligible for the contest please read and follow the instructions below.
This contest is closed.
Visit our entry form (link removed) page.
Enter your name and complete mailing address in the spaces provided. Your full name is required. Entries with initials or single names will not be accepted.
Enter your email address in the space provided. Please double check that it is correct before submitting. HOTCHKA is not responsible for misspelled information and cannot correct errors.
You must have a US residential mailing address. Prize cannot be shipped overseas or to P.O. Boxes.
ONE entry per person, email address and/or household. Duplicates and suspected duplicates will be discarded. HOTCHKA reserves the right to disqualify any entries suspected of being duplicates.
Entry period ends Thursday, September 1 at 6:00 PM Eastern Time.
Winners will be contacted by email for verification of address. Set your email spam filters to accept mail from @hotchka.com
HOTCHKA will never share your information with third parties.
GOOD LUCK!