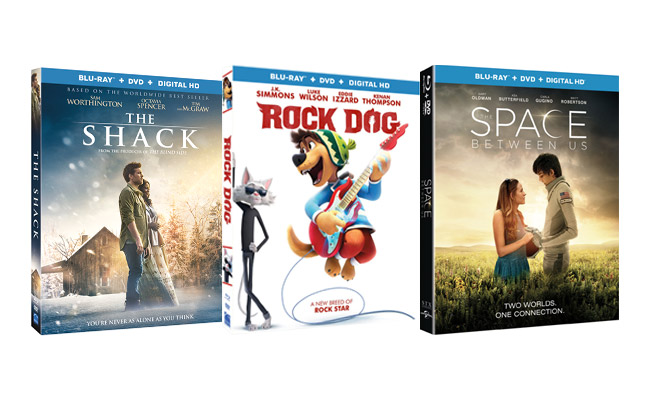 Enter now to win one of three new movies now available on Blu-ray: The Space Between Us, Rock Dog or The Shack. Five lucky winners will be selected at random for each movie! You get to pick which movie you want! You can win only one movie.
The Shack
Based on The New York Times best-selling novel, The Shack takes us on a father's transformative spiritual journey. After a family tragedy, Mack (Sam Worthington) spirals into a crisis of faith and questions God's existence and life's purpose. Mack is unable to move on, until he gets a mysterious invitation to an abandoned shack. There, God reveals Himself in the form of three strangers led by Papa (Octavia Spencer). Mack's journey will transform audiences of all ages, in this movie that you will want to watch over and over. Blu-ray extras include a Director's Commentary, several behind-the-scenes featuretts and Deleted Scenes.
Rock Dog
When a radio falls from the sky into the hands of a wide-eyed Tibetan Mastiff, he leaves home to fulfill his dream of becoming a musician, setting into motion a series of completely unexpected events. The music-filled adventure about a dog's quest to fulfill his dream features an all-star cast, including J.K. Simmons, Luke Wilson, Eddie Izzard, Lewis Black, and Kenan Thompson. Blu-ray extras include a Making of featuretts, Casting the Voices, a "Glorious" music video and more!
The Space Between Us
Sixteen-year-old Gardner Elliot (Butterfield) is the first human born on Mars, living his whole life with a team of scientists on the red planet. He's always longed to see Earth to find the father he's never known and to meet a beautiful street smart girl named Tulsa (Robertson) he's encountered friends with online. But when his chance finally comes, doctors discover his heart can't withstand the Earth's atmosphere. Eager to find his father, Gardner and Tulsa escape on a cross-country race against time to unravel the mysteries of how he came to be and where he belongs in the universe. See the heartfelt and inspiring romantic adventure about how far one person can go for love. Blu-ray extras include an Alternate Ending, Deleted Scenes and a Director's Commentary.
Now you can enter to win one of these three movies! Follow the directions below and click on the artwork to go to the entry form for the movie or movies of your choice. You can enter once for each movie, and you can only win once.
To be eligible for the contest please read and follow the instructions below.
This contest is closed.
Click on any of the images below (links removed) to go to the entry form for that contest.
Enter your name and complete mailing address in the spaces provided. Your full name is required. Entries with initials or single names will not be accepted.
Enter your email address in the space provided. Please double check that it is correct before submitting. HOTCHKA is not responsible for misspelled information and will not correct errors.
You must have a US residential mailing address. Prize cannot be shipped overseas or to P.O. Boxes.
ONE entry per person, email address and/or household per contest. Duplicates and suspected duplicates will be discarded. HOTCHKA reserves the right to disqualify any entries suspected of being duplicates.
Entry period ends Monday, June 5 at 11:59 PM Eastern Time.
Winners will be contacted by email. Set your email spam filters to accept mail from @hotchka.com
HOTCHKA will never share your information with third parties.
Disclaimer: You may enter once for each contest. Choose your preference of prize using the checkboxes on the form, choosing 1, 2, or 3. Winners will be randomly selected for each contest. If you are not selected from your first preference, you will be eligible for your next preference, etc. You may only win once. If you do win, you will not be eligible for the other drawings.
GOOD LUCK!