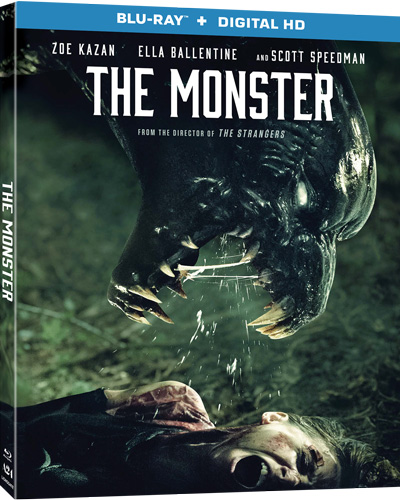 Everyone's worst fears about the evil that hides in the dark come to life in the nightmare-inducing horror film The Monster. Somewhere deep in the dark woods lurks a bloodthirsty creature that targets an unsuspecting mother and daughter on a late-night road trip. Starring Primetime Emmy Award nominee Zoe Kazan (Olivia Kitteridge) and Teen Choice Award nominee Scott Speedman (Underworld franchise), the shocking and terrifying modern monster movie will have you "peeking through your fingers as the blood goes splat" (The New York Times).
Acclaimed horror filmmaker Bryan Bertino (The Strangers) wrote and directed this suspenseful and scary film, in which a divorced mother (Kazan) and her headstrong daughter must make an emergency late-night road trip to see the girl's father. As they drive through deserted country roads on a stormy night, they suddenly have a startling collision that leaves them shaken but not seriously hurt. Their car, however, is dead, and as they try in vain to get help, they come to realize they are not alone on these desolate backroads — a terrifying evil is lurking in the surrounding woods, intent on never letting them leave.
Now you can enter to win one of five copies of The Monster on Blu-ray.
To be eligible for the contest please read and follow the instructions below.
This contest is closed.
Visit our entry form (link removed) page.
Enter your name and complete mailing address in the spaces provided. Your full name is required. Entries with initials or single names will not be accepted.
Enter your email address in the space provided. Please double check that it is correct before submitting. HOTCHKA is not responsible for misspelled information and will not correct errors.
You must have a US residential mailing address. Prize cannot be shipped overseas or to P.O. Boxes.
ONE entry per person, email address and/or household. Duplicates and suspected duplicates will be discarded. HOTCHKA reserves the right to disqualify any entries suspected of being duplicates.
Entry period ends Thursday, February 2 at 11:59 PM Eastern Time.
Winners will be contacted by email. Set your email spam filters to accept mail from @hotchka.com
HOTCHKA will never share your information with third parties.
GOOD LUCK!