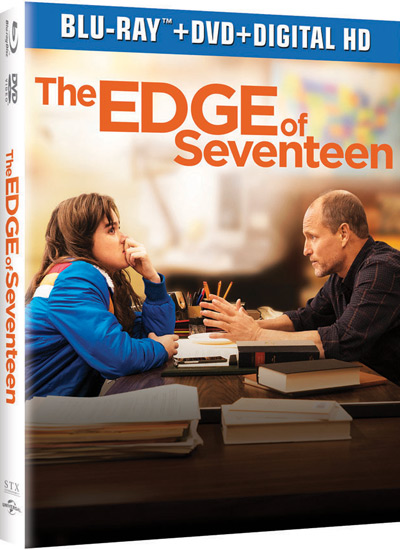 The Edge of Seventeen is an honest and hysterical look at what it's like to grow up as a young woman today. Nadine (Hailee Steinfeld) and Krista (Haley Lu Richardson) are inseparable best friends attempting to navigate high school together. But then Nadine's world gets turned upside down when she finds out that Krista has been secretly dating her popular older brother (Blake Jenner) behind her back. Now with her best friend as her worst enemy, Nadine has to deal with being an awkward loner, while discovering that what may feel like the end of the world is really just the beginning of growing up. Also starring Woody Harrelson and Kyra Sedgwick, see the film critics are calling "an instant high school movie classic" (David Ehrlich, Indiewire).

Now you can enter to win one of five copies of The Edge of Seventeen on Blu-ray. Extras featured in the set include a gag reel and deleted scenes.
To be eligible for the contest please read and follow the instructions below.
This contest is closed.
Visit our entry form (link removed) page.
Enter your name and complete mailing address in the spaces provided. Your full name is required. Entries with initials or single names will not be accepted.
Enter your email address in the space provided. Please double check that it is correct before submitting. HOTCHKA is not responsible for misspelled information and will not correct errors.
You must have a US residential mailing address. Prize cannot be shipped overseas or to P.O. Boxes.
ONE entry per person, email address and/or household. Duplicates and suspected duplicates will be discarded. HOTCHKA reserves the right to disqualify any entries suspected of being duplicates.
Entry period ends Friday, February 17 at 11:59 PM Eastern Time.
Winners will be contacted by email. Set your email spam filters to accept mail from @hotchka.com
HOTCHKA will never share your information with third parties.
GOOD LUCK!