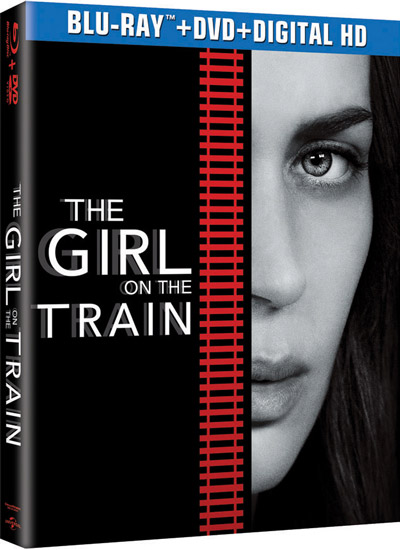 Emily Blunt delivers a riveting performance as Rachel, a woman devastated by divorce, who spends her daily commute fantasizing about the seemingly perfect couple who live in a house that her train passes every day. The mystery unfolds as she becomes increasingly un-hinged and serves as the unreliable sole witness to a tragic disappearance in Director Tate Taylor's suspenseful film adaption that Entertainment Weekly has hailed "the darkest, sexiest, most daring thriller of the year." The Girl on the Train Blu-ray and DVD includes never-before-seen deleted and extended scenes and exclusive bonus features allowing audiences to go behind the scenes with the cast for the ultimate in-home movie experience.
Now you can enter to win one of five copies of The Girl On the Train on Blu-ray. Extras featured in the set include:
Deleted and Extended Scenes
The Women Behind The Girl: Author Paula Hawkins and screenwriter Erin Cressida Wilson discuss their thoughts on writing the novel, the adaptation process and the importance of maintaining character integrity. Director Tate Taylor discusses working with these two incredible writers to make sure his vision for the film was represented in the script.
On Board The Train: A behind-the-scenes look at the strong ensemble cast of The Girl on the Train. Director Tate Taylor and Producer Mark Platt discuss the specific nuances associated with each of the cast members' performances and Emily Blunt, Rebecca Ferguson, Haley Bennett, Allison Janney, Laura Prepon, Lisa Kudrow, Justin Theroux, Luke Evans and Edgar Ramirez take fans through the process of creating their incredible characters.
Feature Commentary with Director Tate Taylor
To be eligible for the contest please read and follow the instructions below.
This contest is closed.
Visit our entry form (link removed) page.
Enter your name and complete mailing address in the spaces provided. Your full name is required. Entries with initials or single names will not be accepted.
Enter your email address in the space provided. Please double check that it is correct before submitting. HOTCHKA is not responsible for misspelled information and will not correct errors.
You must have a US residential mailing address. Prize cannot be shipped overseas or to P.O. Boxes.
ONE entry per person, email address and/or household. Duplicates and suspected duplicates will be discarded. HOTCHKA reserves the right to disqualify any entries suspected of being duplicates.
Entry period ends Thursday, January 19 at 5:00 PM Eastern Time.
Winners will be contacted by email. Set your email spam filters to accept mail from @hotchka.com
HOTCHKA will never share your information with third parties.
GOOD LUCK!