Welcome to Part Two of our Emmy Awards countdown. If you missed the predictions of what shows would win Outstanding Drama and Outstanding Comedy Series, you can find those in Part One. The explanation of the judging criteria and how the winners are predicted can also be found there.
In this edition of the Emmy predictions, we'll look at what will win for Outstanding Animated, Variety and Limited Series.
OUTSTANDING LIMITED SERIES
This is an interesting category, which I'm going over quickly. This year has more competition than usual. The nominees are:
American Crime/em>
Fargo
The Night Manager
The People vs O.J. Simpson: American Crime Story
Roots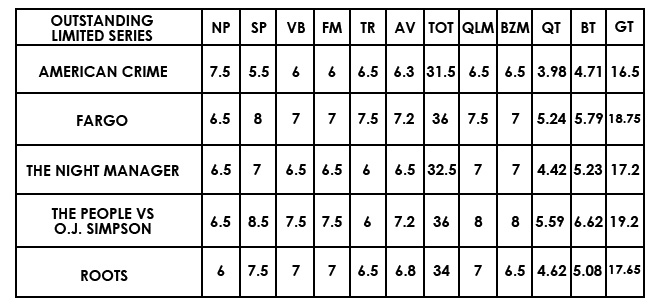 This year the impossible to stop The People vs O.J. Simpson wins.
OUTSTANDING ANIMATED SERIES
Archer. It's a funny, dark, vulgar show. Can't win.
Bob's Burgers is new critical darling, it's fine.
Phineas and Ferb: Last Day of Summer. Surprised to see this here. I've never seen it.
South Park had a killer season.
The Simpsons. Well… it's the veteran.
I believe South Park may take it this year.
What should win: That's the one.
What shouldn't win: The Simpsons is out now.
What might squeak by: Bob's Burgers has some love.
What shouldn't even have been nominated: A Disney channel show?
What wuz robbed: Rick and Morty! And of course, Bojack Horseman.
OUTSTANDING VARIETY SKETCH SERIES
Drunk History is a funny show, but it has no chance of winning. It's too weird.
Inside Amy Schumer benefits from a lot of buzz, but I don't know …
Key & Peele is quality, but not always great.
Portlandia rarely is great, but it's enjoyable.
Saturday Night Live has been a bit wonky lately, but I still watch it. It's an institution.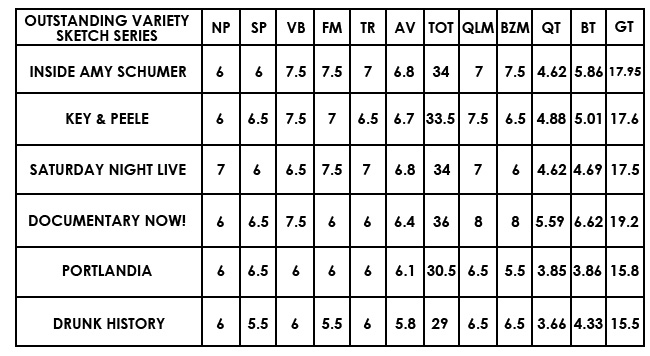 These are all good shows, but I think Inside Amy Schumer will win despite a mixed season.
Probably.
What should win: Tough one. I actually think SNL was pretty good but Documentary Now! was quite innovative.
What shouldn't win: Portlandia is not as funny or clever as the rest.
What might squeak by: Key & Peele might win for their final year.
What shouldn't even have been nominated: None, they're all good.
What wuz robbed: Nah, nothing really.
OUTSTANDING VARIETY TALK SERIES
Comedians in Cars Getting Coffee is online only but it's Jerry Seinfeld. That's bias.
Jimmy Kimmel Live has funny segments but is not the best show.
Last Week Tonight With John Oliver is not always amazing, but has had some truly brilliant pieces.
The Late Late Show with James Corden is the new guy with an appealing host and some very funny pieces.
Real Time with Bill Maher is all over the place but the political landscape has shed new light on this show.
The Tonight Show Starring Jimmy Fallon is all about the viral hits, but it's very workhorselike by this point.
I think this year John Oliver wins it with Last Week Tonight.
What should win: I'd give it to John Oliver too.
What shouldn't win: Bill Maher.
What might squeak by: Never underestimate Seinfeld.
What shouldn't even have been nominated: I guess Jimmy Kimmel, but they're all decent choices.
What wuz robbed: This year The Daily Show with Trevor Noah and The Late Show with Stephen Colbert got nothin', neither did newcomer Samantha Bee's show.
The predictions of Lead and Supporting roles in Limited series is next.