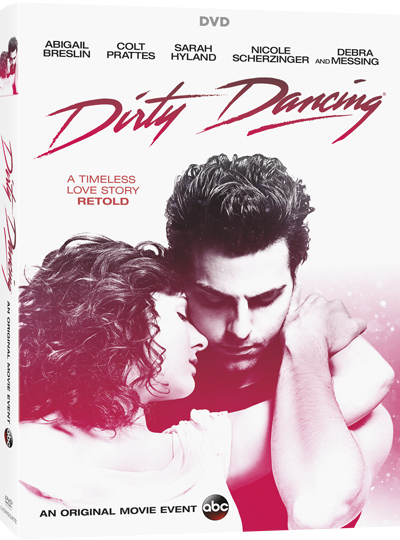 Baby Houseman is back in a new reimagining of the classic hit in ABC's Dirty Dancing, the three-hour television special introducing the timeless love story to a new generation while still honoring the spirit of the original film.
Dirty Dancing is a reimagining of the beloved 1987 hit film and global pop-culture phenomenon. This original movie event features the story from the original film told from a fresh perspective. Spending the
summer at a Catskills resort with her family, Frances "Baby" Houseman falls in love with the camp's dance instructor, Johnny Castle, and nothing is ever the same for anyone in the Houseman family. Modernized, updated versions of memorable, favorite songs including "(I've Had) The Time of My Life",
"Love Man", "Do You Love Me", "Hungry Eyes", and "She's Like the Wind" are teamed with well-known songs new to the world of Dirty Dancing (such as "Fever" and "They Can't Take That Away from Me"), woven into the story and performed by the talented and versatile cast. Discover what happens to Baby and Johnny after that summer, and learn more about the supporting characters from the original film.
Special features on the DVD include "Dirty Dancing: The Legacy Lives On" Featurette and "Dirty Dancing: Don't Step on the 1, Start on the 2″ Featurette.
Now you can enter to win one of five copies of the Dirty Dancing DVD.
To be eligible for the contest please read and follow the instructions below.
This contest is closed.
Visit our (link removed) entry form page.
Enter your name and complete mailing address in the spaces provided. Your full name is required. Entries with initials or single names will not be accepted.
Enter your email address in the space provided. Please double check that it is correct before submitting. HOTCHKA is not responsible for misspelled information and will not correct errors.
You must have a US residential mailing address. Prize cannot be shipped overseas or to P.O. Boxes.
ONE entry per person, email address and/or household. Duplicates and suspected duplicates will be discarded. HOTCHKA reserves the right to disqualify any entries suspected of being duplicates.
Entry period ends Wednesday, July 5 at 11:59 PM Eastern Time.
Winners will be contacted by email. Set your email spam filters to accept mail from @hotchka.com
HOTCHKA will never share your information with third parties.
GOOD LUCK!