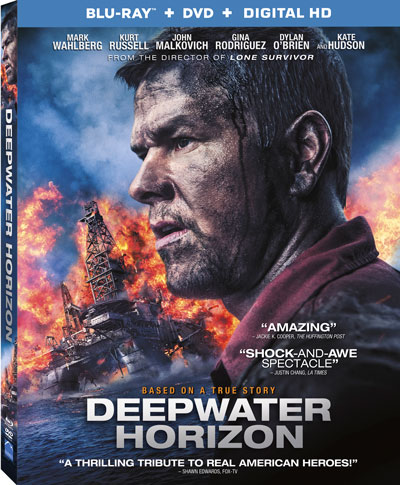 Mark Wahlberg leads an all-star cast in this unforgettably powerful film inspired by a thrilling story of real-life heroes. For the one hundred and twenty-six people aboard the Deepwater Horizon offshore oil rig, April 20, 2010, began like any normal day. Before day's end, the world would bear witness to one of the greatest man-made disasters in U.S. history. Deepwater Horizon reveals the brave acts of the men and women who rose to the challenge and risked everything to lead others to safety.
Now you can enter to win one of five copies of Deepwater Horizon on Blu-ray. Extras featured in the set include:
Beyond the Horizon: Mark Wahlberg: Go on-set with Mark Wahlberg as he discusses his involvement in the film, his preparation to play Mike Williams, and his memories of making Deepwater Horizon. This piece also features thoughts from the real Mike Williams on his story, his interaction with Wahlberg and the production of Deepwater Horizon, and his impressions of seeing his story brought to the movies.
Beyond the Horizon: Kate Hudson: Join Kate Hudson as she discusses her memories of meeting and portraying Felicia Williams, her time in New Orleans, her favorite moment from the shoot, and working with director Peter Berg's unique methods.
Beyond The Horizon: Kurt Russell: Legendary actor Kurt Russell discusses his interest in the true life drama that inspired the film, his enthusiasm for ensemble storytelling, and sharing an on-screen moment with his daughter for the first time ever. More Deepwater Horizon cast and crew join to discuss Kurt's longevity and his ability to provide wisdom that ultimately improved the film.
Beyond The Horizon: Gina Rodriguez: Gina Rodriguez sits down to discuss her love of performing, boxing with director Peter Berg, and how the experience of Deepwater Horizon changed her forever.
Beyond The Horizon: Dylan O' Brien: Sit down with Dylan O'Brien for a discussion about meeting and working with the real Caleb Holloway, the thrill of working with his acting idols, and filming intense action on some of the most impressive sets ever built.
To be eligible for the contest please read and follow the instructions below.
This contest is closed.
Visit our entry form (link removed) page.
Enter your name and complete mailing address in the spaces provided. Your full name is required. Entries with initials or single names will not be accepted.
Enter your email address in the space provided. Please double check that it is correct before submitting. HOTCHKA is not responsible for misspelled information and will not correct errors.
You must have a US residential mailing address. Prize cannot be shipped overseas or to P.O. Boxes.
ONE entry per person, email address and/or household. Duplicates and suspected duplicates will be discarded. HOTCHKA reserves the right to disqualify any entries suspected of being duplicates.
Entry period ends Wednesday, January 11 at 11:00 PM Eastern Time.
Winners will be contacted by email. Set your email spam filters to accept mail from @hotchka.com
HOTCHKA will never share your information with third parties.
GOOD LUCK!